Sculptures and Form Lamps are originally designed and fabricated by Lawrence Kinney. Experience and education in art and architecture have influenced Lawrence. His designs are unique, but reminiscent of the Arts and Crafts movement, the Art Deco movement, and Japanese aesthetics.

There are two types of lamps:
*floor lamps *tabletop lamps
Lamps can be made in any of seven types of wood. The wood is color or "wood" stained, and then coated with a clear, satin finish, if desired.

Light switches can be attached to
the body of the lamp,
or to a cord.

Lamps are made-to-order, according to your specifications, and are not stocked.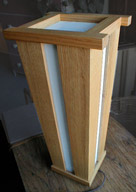 New!
Ta
bletop and
floor lamp
-Made of straight-grained white oak and mahogany woods